2017 Summer Retreat Concludes at the APOC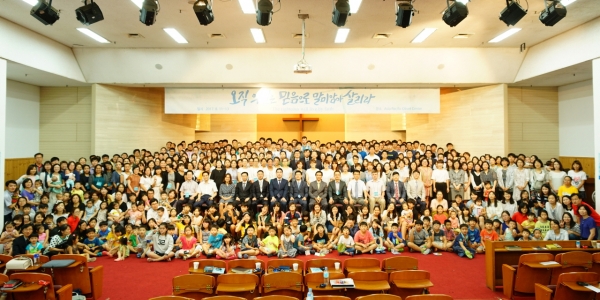 The 2017 Summer Korea retreat concluded with abundant grace at the Asia Pacific Olivet Center on August 12th.

The main title of the retreat was "The Righteous will live by Faith" and the two themes were "Cross & Way to True Freedom" and "Sanctification & Kingdom of God", meditating on the deeper aspect of the four spiritual laws.

Like Us on Facebook
The closing service meditated on the meaning of the cross, the true freedom in the Lord, and the firm resolution to follow the full image of Jesus Christ.

Pastor Daniel So, General Secretary of OA Korea, presided at the orientation of the retreat. Furthermore, members prepared for the first bible lecture with praise, worship, and prayer.

After reporting on the progress of the oversea mission of YEF Korea, Pastor Simon Jang, Representative of OAK, delivered the closing sermon titled "You May Declare the Praises of Him Who Called You Out of Darkness into His Wonderful Light" from 1 Peter 2:1-10.

Pastor Simon mentioned that we are sent to the world to deliver the gospel. He stressed that all we need to do is avoid every kind of evil - even the appearance of evil - in our lives. The retreat is a time to train our spirits, wash our robes clean (Revelation 22:14), and see God with a pure heart.

The pastor went on to profess that when we are called, we have become the stones the builders rejected, but now, all of us are a chosen people, a royal priesthood, a holy nation, a people belonging to God. We ought to be convinced of God's love and His calling, remaining steadfast in this identity like the Lord Jesus Christ."