US Mission Conference Begins, "Enlarge Your Place of Tent"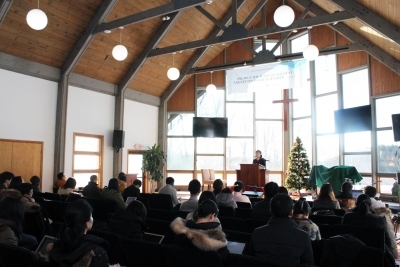 The US Mission Conference begins on December, 26th after the conclusion of the 2017 Christmas Retreat. For two days ministers will gather and determine the course of US mission for the next year while presenting about their goals and strategies.

Pastor Deborah delivered the opening service with the scripture of Isaiah 54:2. "The prophet Isaiah recorded the image of the Lord, silent and obedient, in the face of the suffering on the cross. This is the message of salvation. We are standing here completely released from the power of sin and death." She shared.

Like Us on Facebook
She expressed that "We are meeting here to discuss the revival of the US and Canada. This is such an exciting topic that we should all be looking for. If we have a small tent then we will not be able to contain many people. We need to be the ones that will gather a large tent that will be able to hold and contain a great many people."

The theme for this year's conference has been confirmed as Isaiah 54:2 "Enlarge the place of thy tent, and let them stretch forth the curtains of thine habitations: spare not, lengthen thy cords, and strengthen thy stakes." Because of the expectation and goal for US mission to increase greatly, this is the faith and belief with which the mission field desires to go forward together with. Without sparing any effort, US mission desires to go forward together with churches and fellowships to achieve this.

Like the scripture says, each minister will seek to increase the size and coverage of their tents. Where before their churches may have just been small pieces of cloth, they will grow to hold and contain a great many people in this country. Please pray for the development of US mission and for this mission conference to be productive and fruitful.